Expired Event
CLAY HIGH SCHOOL REUNION
100 Legends Dr.
Notre Dame
,
IN
–

Saturday, August 11, 2012

Starts: 7:00 PM
Ends: 11:00 PM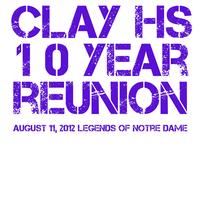 Dear Colonials,
We think we're too young for this momentous occasion, but it's upon us.
Gather your young brood of children and polish off your trophy spouse to showcase at our ten-year reunion. Music will be played, good food and drinks will be had.

Looking forward to seeing everyone's older selves!
DETAILS: Legends of Notre Dame
August 11, 2012
7:00PM-11:00PM
FYI: Food will be provided by the expert chefs of Legends, and music will be tailored to the hits of our high school years.
ADVERTISE: There are quite a few classmates that have been MIA on Facebook, so help us spread the word. Look for our advertisement in the South Bend Tribune soon.

TICKETS: Please purchase your tickets no later than July 31st. Tickets are not refundable. For more information, please email clay10yreunion@gmail.com.